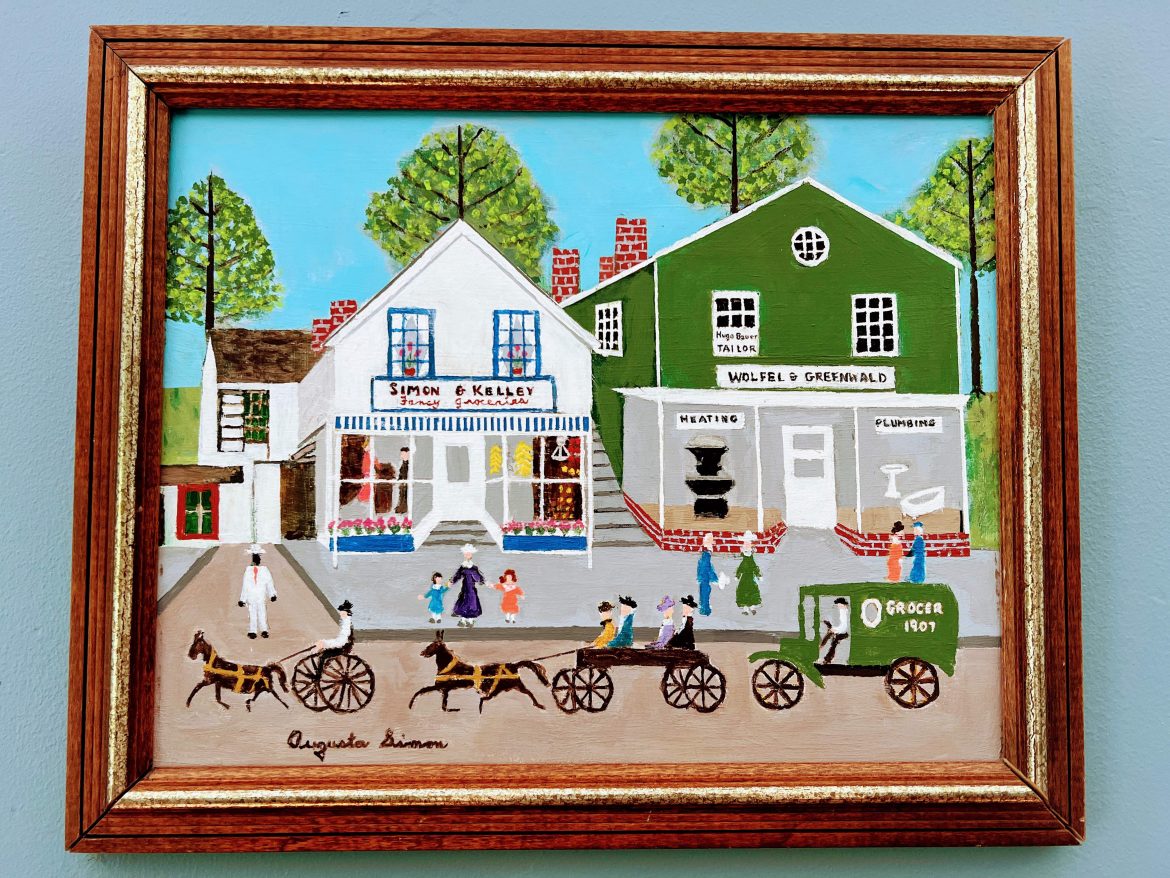 Who knew: Fantasy New Canaan Commercial Real Estate™ is a game we can all play
'Who knew?' is sponsored by Walter Stewart's market.
If I'm certain of anything, it's that the old New Canaan Post Office building at the corner of Park and Pine streets must be a bowling alley.
It's not, of course, because it's a Merrill Lynch. And, well, private wealth management is probably a more practical (if not to say more pandemic-proof) business than bowling. But New Canaan Fantasy Commercial Real Estate™ is not about rationality. It's about creating a fictional downtown utopia out of available commercial space, a game in which start-up costs and market viability are no object. So let's face it: a candle bowling alley with live music, nifty cocktails and an inspired but kid-friendly small plate menu would have been a pretty sweet way to spend your next birthday/date/birthday party. snow/Tuesday. We'd call it Canaan Lanes, and it would offer six charming little standard or impossibly yankee candle-lit bowling alleys, all clad in mid-century blond woods with hand-painted vintage signage. Your guy Merrill would have loved that too.
As Manhattan becomes a long street-level succession of Duane Reades and Chase ATM vestibules, and the rest of the world seems to only connect the dots between Amazon fulfillment centers and Jiffy Lube stores, I wonder what we could add to this city to make it even more perfect, to push the Next Station to Heaven a little more skyward. A roller skating rink? A plant store? A wine bar? A magical fusion of ALL THREE? There are no bad ideas in New Canaan Fantasy commercial real estate.
To play, I spoke with a few friends and neighbors who have lived here for decades about what they miss about the New Canaan of the 80s, 90s and such. I started piecing together the image below, the one that heals our pandemic-induced isolationism and addiction to Amazon, one storefront at a time. Investors and developers, if you see something you like, take it and run with it. I will be happy to accept a few points at the back.
87 Main Street (the old Thali spot)
New Canaan doesn't yet have its star on the New England craft beer map, but this 1911-built bank building is precisely where all that may change. Think: stainless steel mash vats out back, the exposed brick interior flooded with light, and the perfect spot for a pint or two on a sunny Saturday of the only session IPA made in New Canaan. Our dog-friendly brewpub would serve an inventive, southern twist on classic pub grub, like baked sweet potato skins, chili cheese dip, deviled eggs, and maybe the occasional grilled ham and cheese. The name is anyone's call, but I'm a fan of simplicity: The Bank.
"I'll be home soon; I have to stop at The Bank".
To see? We just posted your first ad.
112 Main Street (newer: Greenwich Pharmacy)
My neighbor, a 25-year-old New Canaan resident, mentioned a long-gone store called Lamakers, a men's clothing boutique known for its reasonable prices and exceptional customer service. "They kept cards on file for each customer, so I could drop by and pick out something for my husband, and they would already know all his sizes." I like that level of personal attention in customer service, and it's something a small town can do especially well in the increasingly impersonal world of online shopping. What we really need right now, though, is personalized service AND a surefire way to handle Father's Day.

Buying gifts for men is tricky business. There are only a limited number of generic Patagonia golf belts/trinkets/jackets that a grown man can own. What most of them really want is to be James Bond anyway, and vintage Aston Martins are usually beyond my birthday buying budget. I propose to fill this space with a shop called Dude and make it the one stop shop for everything guys don't even know they want. Maybe they can sell a few select brands of men's casual wear and office wear (I'm thinking Vuori for the weekends, Todd Snyder for the weekdays, and vintage Air Jordans for the crises of the quarantine), but let peripheral gifts be amazing. Original Star Wars memorabilia? A vintage Malloch fly fishing reel from Scotland? A Sonos-compatible walnut turntable with pristine sound? This kind of things. The stuff that makes you look like you've been stumped for months when all you were really doing was going downtown.
97 Main Street (was Garelick & Herbs, now empty)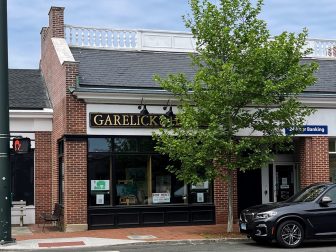 Can't we just bring Garelick & Herbs back in there? Their Rice Krispie treats were good.
48 Elm Street (was your CBD store, now your store with a giant crack in the window)
There's a good reason recent starry-eyed college grads go to work for Google and Goldman instead of the stationery business. Paper goods are hardly on the dizzying frontier of consumer categories, with their unsexy projected growth rate of 4% per decade and complete lack of innovation. Stationery brand conferences probably don't even have luxury yachts OR special A$AP Rocky appearances, so why even bother with the card business?
Because recognizing birthdays with a little folded piece of paper is what separates us from animals, that's why. Milestones and Papyrus are missed by everyone I have spoken to. And while The Whitney Shop has a fine selection of bridal and personalized stationery, New Canaan also needs a breezy little joint where you can buy informal paper goods, birthday cards with little pugs, cupcakes or bottles of rosé hinting at it. You know. Lady stuff.
So let's open an independent stationery in this bright corner, add some freebies and those big 06840 notepads that Milestones used to carry around and that I can't find anywhere else. They would also have bullet journals, fancy calligraphy pens and washi tape for the crafty ones, and stock exciting new school supplies every August and September. Let someone else spend their days ordering cutting-edge financial and technological seafood tricks… I'll be right there, becoming my grandma, laughing at my little cards.
134 Elm Street (recently The Artful Mix)
One thing that has been slow to come to New Canaan and that our surrounding towns are doing well: carbs that people are lining up for. There's Rise Donuts in Wilton, Flour Water Salt in Darien, Raphael's in Greenwich, and apparently, a secret pizza maker in Westport. Where's the delay, New Canaan? We have the appetite. We have room. We just need a little capital to build a commercial kitchen and someone willing to get up at 3am to cook.
Bialys? Scones? A very very good wand? Simple sheet cakes for children's birthday parties? Perhaps the bakery New Canaan needs most is versatile enough to do all of the above, like the 60-year-old Ritz Patisserie, which closed in 2005. Let's relive it and stop crossing the lines urban for our dose of gluten.
4 Cherry Street (formerly Merrill Lynch, now for sale)
"They knew your drink order and brought it to you as soon as you sat down," said my neighbor from a now-defunct New Canaan restaurant. And that's what I offer for this charming bay-window building: our very own personal Cheers, where, in the tradition of the beloved Elm Street restaurant, Izzy's Place, which closed in 1976, you are also likely to find a postman holding court at the bar like you're a selectman.
In this age of agonizing demographic segmentation (places are always designated as "for people with kids", "for bros" or "for cougars"), it would be nice to create a place for everyone. An interior build here might include an idyllic New Canaan with a 60s vibe, with whitewashed brick walls, ferns everywhere, and maybe a vintage bike or two hanging from the ceiling. Kids might order a Grape Crush if kids are even still allowed to eat such a delicious, sweet poison (maybe blueberry seltzer?) and color on butcher paper with crayons while their parents might eat unprepossessing dinners of ribs with coleslaw, an outstanding fried chicken sandwich, and maybe a really good German potato salad. The bartender would know how you take your martini (Hendricks, with a twist) and send it sliding down the bar at your leisure. This being Fantasy New Canaan Commercial Real Estate™ and not subject to the normal laws of physics, you grab the martini without spilling gin on your clothes and catch up with the Frasier guy to your left. Maybe he's in a bowling league at Canaan Lanes.

Easy, right?
Thanks for playing the game.
NB: I have been informed that some of the above spaces will soon be occupied by new businesses, and I look forward to stopping by for a visit.