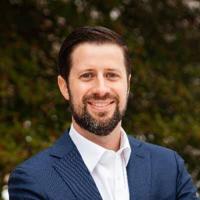 Commercial real estate financier enters 10th congressional race | News
Brandon Michon, chief executive of a commercial real estate finance company, notably for challenging the Loudoun County School Board over its decision to close schools during the COVID pandemic, announced last week that he was running for the 10th congressional district.
"We're going to let the parents take their voices back," Michon said when announcing his candidacy on Fox News' Tucker Carlson Tonight last week. "I'm so happy to jump in this race."
Michon enters a crowded field of candidates seeking to unseat U.S. Representative Jennifer Wexton (D), who is seeking her third term after back-to-back victories in 2018 and 2020.
If elected, Michon said he plans to make education, security and the economy some of his top priorities.
Specifically, increased focus on literacy, financial literacy, and renewed focus on trade schools and incubators.
"My job today is to take two sides, bring them together to make a deal that everyone is willing to accept, and that has a lot of similarities between that and Washington right now," Michon said.
He said that if elected, he would do the same "for the good of the country".
Michon joins several candidates for the GOP nomination, including Loudoun County School Board member John Beatty; Theresa Coates Ellis, small business owner; Jeanine Lawson, who sits on the Prince William County Board of Supervisors; nonprofit co-founder Caleb Max of Loudoun County; Army veteran Paul Kinny Lott Sr.; tech company director Mike Clancy, Prince William County resident John Henley, and former Navy veteran Hung Cao, according to federal records.
The Republican 10th Congressional District Committee will select its nominee for the United States House of Representatives in a firehouse primary on Saturday, May 21, 2022, according to District Committee Chairman Geary Higgins.
Higgins said further details on locations and times would be forthcoming.
A state party primary will be held to determine the Democratic nominee.
Recently, Shadi Ayyas, a doctor from Purcellville, told the Times-Mirror that he was seeking the Democratic nomination for the 10th congressional district seat. The party's candidates will be included in the November 8 general election ballot.
The winner of the November contest will represent an amended district, which won Rappahannock and Fauquier counties in their entirety, both of which favored Donald Trump (R) over Joe Biden (D) in the 2020 presidential election .
The district lost Clarke and Frederick counties, both of which supported the Republican nominee in the last three presidential elections. Additionally, the district lost the independent city of Winchester — which has backed the Democratic nominee for the past three election cycles — as well as large parts of Fairfax County, which heavily favored the Democratic nominee in recent presidential elections.
The redrawing of the maps takes place every ten years. The court was asked to redraw the maps after a bipartisan redistricting commission failed to agree on maps for Congress or the General Assembly.
Last month, the Supreme Court of Virginia released newly drawn legislative district maps, which included a redrawn 10th congressional district.
Additional races on the ballotLoudoun County will hold races for school board member seats in Leesburg and Broad Run, as well as the cities of Hamilton, Hillsboro, Leesburg, Lovettsville and Purcellville. The Supreme Court of Virginia still decides to include elections in November for the newly created district seats from the redrawn maps. Loudoun County is represented by two new districts based on the redrawn maps, including Districts 27 and 29. The 27th District encompasses parts of Loudoun including Dulles, Sterling, Potomac Falls and South Riding. City of Leesburg Vice Mayor Fernando "Marty" Martinez announced his candidacy for the 29th District earlier this month. The newly created district primarily encompasses Leesburg.