Center for Commercial Music brings a taste of Nashville to campus »Liberty News
September 17, 2020: By Jacob Couch – Office of Communications and Public Engagement
This week, students at the Michael W. Smith Center for Commercial Music at Liberty University School of Music were treated to some of the best talent in Nashville's music scene. Several musicians who have contributed to the albums of Dierks Bentley, Little Big Town, Michael W. Smith, Steven Curtis Chapman, Amy Grant and many others have spoken about their craft and helped budding Liberty artists define the tracks of their own songs.
Guitarist Dave Cleveland, bassist Jacob Lowery, drummer Steve Brewster and keyboardist Jason Webb gathered on stage Monday night at the Center for Music and the Worship Arts Concert Hall to give students a sample of what the sessions look like. 'studio recording at Music City.
"A workshop like this is even more amazing in our state-of-the-art concert hall, where the excellence of the performers is combined with the high-tech performance hall and an impressive audio, video and lighting team," said School of The Dean of Music Stephen Müller.
Guests experimented with demos of music student songs on stage before being joined by former "America's Got Talent" contestant and current School of Music student Joseph O'Brien for a song of praise by closing co-written by O'Brien, Liberty Worship Collective Executive Director Kevin Huguley and Liberty Music Group songwriter John Forystek.
On Tuesday, the musicians listened to more demos of songs written by the students in the recording studio, then created tracks for the songs that the students can use when they release their work for the whole world to hear. .
"It's amazing because I knew what I wanted this song to sound like, but I didn't know how to say it," said Catherine Shepherd, a sophomore pursuing a BM in Commercial Music: Artist Development. "But these guys knew what I meant and they knew how to play it."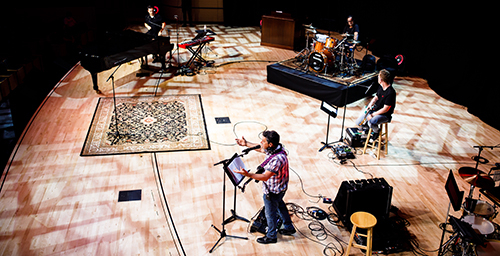 After three recordings of Shepherd's song, "Graffiti," which will be released on Spotify soon and talks about the beauty of being able to come to Christ with our sinful pasts, Brewster left the drum studio and said to Shepherd, "Wow, c was amazing, I feel so inspired.
The artists were equally impressed with the facilities and equipment that the school had to offer.
"Honestly, they're just as good and even better than some of the places we record music in Nashville," Lowery said.
Müller said these few days are a sample of what commercial music students at the School of Music will receive throughout their stay at Liberty.
"Having the musicians from the Nashville studio on campus and in the studio is one of the key features of the Michael W. Smith Center for Commercial Music," he said. "Our guest musicians are the best of the best and our students can watch them, learn from them and work with them. This interaction helps students develop an understanding of the studio recording process as well as the professionalism required to be successful in the music business.
The artists made themselves available Tuesday night for students to ask questions, including how to stay true to their beliefs in an industry that can be difficult due to frequent travel and time spent on the road outside of the family.
"Liberty does a great job of showing what the real world looks like by bringing in professionals like these men," said Donavan Perez, a senior specializing in recording, engineering and production. "I really enjoyed this experience. It was a great opportunity to watch these guys do this and also to be able to learn more about it. "
Liberty offers both a BS and a BM in Commercial Music. Students learn the music theory and technique of several genres, as well as the fundamentals of recording and producing commercial music. The programs are taught from a biblical worldview, allowing them to explore music as both art and worship. The degrees are accredited by the National Association of Music Schools. For more information, visit the Music school website.