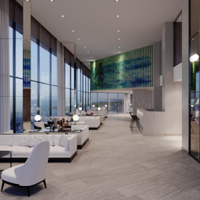 6 reasons for the surge in commercial real estate transactions in 2021 | Multimedia
The residential real estate market has received a lot of attention over the past couple of years, and for good reason. The housing market has become so tight that inventory is extremely hard to come by in almost every market, and prices are now higher than ever for houses. Properties offered for sale are usually seized in record time – and often sell for more than the asking price – which has made it difficult for most buyers to compete.
Case in point: A moderately priced home recently came up for sale in Raleigh, North Carolina, and it was absolutely inundated with potential buyers looking for affordable properties. This mad dash of buyers was enough to grab national headlines, but any buyer who's been looking for a property in the past couple of years certainly wasn't surprised by the overwhelming interest. That's just part of what buyers face when looking for a property in a booming real estate market.
But the real estate buying frenzy that has been happening recently has not been limited to the residential housing market. Commercial real estate transactions have also exploded, with a surprising increase in transactions over the past year. Throughout 2021, investors big and small have snapped up everything from apartment buildings, warehouses and distribution centers to other types of commercial properties, like hotels. From the second quarter of 2021, multi-family ownership sales increased 26% year over year and non-residential properties were up 16% year over year. There were also increases in sales rates across all types of commercial properties. The rampant demand for commercial properties has also generated $193 billion in commercial real estate transactions that occurred in the third quarter of 2021 – and a record $809 billion in commercial property sales for the full year of 2021.
So what exactly has led to the surge in commercial real estate transactions throughout 2021 – and why? EquityMultiple has compiled a list of six important trends in commercial real estate markets in 2021, covering topics ranging from the rise of retail investors to the impact of the Federal Reserve's pandemic policies. Here's what you need to know.